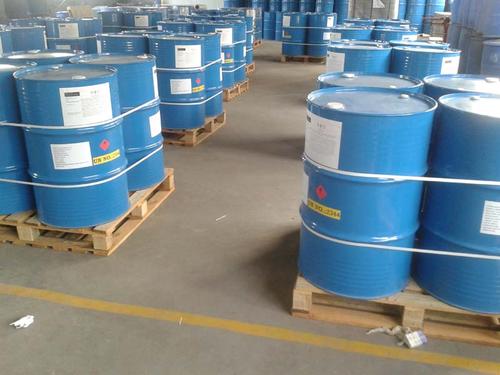 Product name:N-PROPYL BROMINE
CAS No.:106-94-5
Property: Clear liquid. It's insoluble in water, high flash point of flammable liquid, toxic, and ethyl bromide similarity.
N-propyl bromide is also known as Aspropane, which is commonly used in disinfectants, antiseptics, aerosols, metal cleaning, coating and inks. Our offered chemical is hugely demanded by pharmaceutical, petroleum, and agrochemical and even in other sectors of applications.
N-Propyl Bromide
We are flourished with qualified a professional who prepares these products in our enormous infrastructure facility making the use of complicated equipments. To remove the solid residues and clean the metal surface the chemical N-propyl Bromide is used. All our products are formulated as per the guidance of our professionals quality inspectors as per industry laid standards and guidelines. The feature of the chemical is having accurate composition and chemical stability, for which it is well-known in the market. Our client's can avail these products from us at the markets leading price and it's customized as per the specifications of our esteemed customers.
| | | | |
| --- | --- | --- | --- |
| Product name: | 1-BROMOPROPANE | Other Names: | N-PROPYL BROMINE |
| CAS No.: | 106-94-5 | EINECS No.: | 203-445-0 |
| MF: | C3H7Br | MW: | 122.99 |
| Purity: | 99%Min | Place of Origin: | Jiangsu, China |
| Density: | 1.353 | Moisture: | 300 PPM MAX. |
| Application: | Pharmaceutical and pesticide intermediates, Precise instrument cleaning . | Type: | Agrochemical Intermediates |
| Appearance: | Clear colorless liquid | Usage: | extracting solvent |
| Grade: | Phamaceutical Grade | | |
| Boiling point: | 71 °C(lit.) | Melting point: | -110 °C |
* We will send you the product you ordered from the nearest warehouse. If one of the warehouses is out of stock, we will ship from another warehouse to reduce delivery time.
* If there are special circumstances, delivery is postponed. Inconvenience, please understand.
* If you need to inquire, please contact our sales manager E-mail: Sales@Ruistars.com
* Rooloong will regularly review the storage conditions to optimize them, please follow the online catalog, please pay attention.
Advantages of N-propyl Bromide
Available at comparatively reasonable price
Excellent drop-in replacement for chlorinated based solvents like
trichloroethylene, trichloroethane, perchloroethylene, and methylene chloride
Non-Ozone Depleting and Non-Flammable
Can be used as a cold wipe solvent as well as a vapor degreasing solvent
Not considered a hazardous waste.
Easily distillable & recyclable
PACKING: 250kg steel drum.