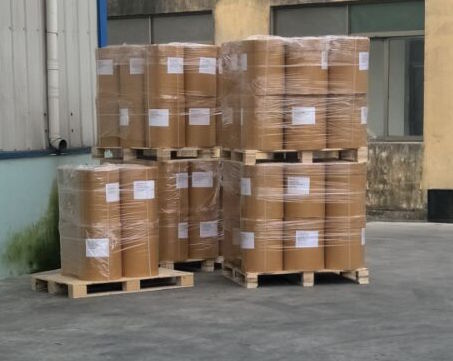 Product Name: Methionine/DL-Methionine
CAS No.:59-51-8
Properties : White flaky crystal or crystalline
Usage: Methionine can be used as nutional supplement. DL-methionine has the same effect with L-methionine, but DL-methionine is cheaper.
DL-Methionine
1. Methionine can be used as nutional supplement. DL-methionine has the same effect with L-methionine, but DL-methionine is cheaper.
2. Methionine can be formulated as a flavoring agent.
3. Methionine has a protective role of the liver. Methionine has effects of anti cirrhosis, fatty liver, and a variety of acute, chronic, viral, jaundice liver.
4. Methionine has a myocardial protective effect.
5. Methionine has an antidepressant effect.
6. Methionine has a blood pressure lowering effect.
7. Methionine has an antivirus poison eradicates effect.
| | | | |
| --- | --- | --- | --- |
| Product name: | DL-Methionine | Other Names: | 3-Methyl Amino Propionitrile |
| CAS No.: | 59-51-8 | EINECS No.: | 200-432-1 |
| MF: | C5H11NO2S | MW: | 149.21 |
| Purity: | 99%min | Grade: | Food Grade |
| Appearance: | White Crystal Powder | Usage: | Promote Nutrition |
| Loss on drying: | < 0.2% | Heavy metals (as Pb): | < 10 PPM |
| Ignition residue: | < 0.1% | Ph: | 5.6 ~ 6.1 (1% soln. 25 ° C) |
| Transmittance( > 95%): | > 95% | Water: | 0.5% or less |
| Arsenic Arsenic (As): | 3 PPM or less | Cadmium Cadmium (Cd): | 1 PPM or less |
Properties : 
1.White flaky crystal or crystalline powder.
2.Has special smell.
3.Slight sweet taste.
4.Melting point: 281℃(decompound).
5.10% aqueous solution's Ph value is 5.6-6.1.
6.No optical rotation, stable to heat and air.
7.Unstable to strong acid, can cause the demethylation.
8.Soluble in water(3.3g/100ml,25℃), diluted acid and diluted alkali solution.
9.Very hard to dissolve in ethanol, almost does not dissolve in ether.
* We will send you the product you ordered from the nearest warehouse. If one of the warehouses is out of stock, we will ship from another warehouse to reduce delivery time.
* If there are special circumstances, delivery is postponed. Inconvenience, please understand.
* If you need to inquire, please contact our sales manager E-mail: Sales@Ruistars.com
* Rooloong will regularly review the storage conditions to optimize them, please follow the online catalog, please pay attention.
DL-ethionine is one of the basic units for composing the protein, is the only sulfur bearing amino acid am.
1. Product methionine content ≥ 98.5%, is the growth of poultry animals necessary amino acids
First, is the biosynthesis of protein "skeleton" amino acids, the metabolism of animals have a strong regulatory role, widely used in medicine, food, feed and cosmetics and other fields. Which can be used as a major component of amino acid infusion and compound amino acids, and can also be used for the synthesis of medicinal vitamins, the use of its anti-fatty liver effect, can be used to produce hepatoprotective preparations; in food, for food amino acid strengthening and Food health products processing, can be used as nutritional supplements, due to a special smell, it is only used for fish products; in the feed industry, the largest amount of methionine, used as feed nutrition enhancer, make up the amino acid balance Feed additives, in the amino acid nutrient feed additive varieties, methionine 60%, lysine accounted for 30%, other amino acids accounted for about 10%.
2. Used as feed nutrition enhancer, can make up for amino acid balance. Livestock lack of methionine, can cause dysplasia, weight loss, liver and kidney function weakened, muscle atrophy, skin deterioration and so on. Feed 1kg methionine, equivalent to 50kg of fish meal nutritional value. Generally add the amount of 0.05% to 0.2%.